Clinton Global Initiative University
---

Building on the successful model of the Clinton Global Initiative, President Clinton launched the Clinton Global Initiative University (CGI U) in 2007 to engage the next generation of leaders on college campuses around the world. Each year, CGI U hosts a meeting where students, university representatives, topic experts, and celebrities come together to discuss and develop innovative solutions to pressing global challenges.  "The Clinton Global Initiative University (CGI U) is looking for undergraduate and graduate students who are committed to address pressing challenges in education, climate change, human rights, poverty alleviation, and public health. Join President Bill Clinton, Chelsea Clinton, and the next generation of leaders to receive access to a social impact curriculum, personalized mentorship, virtual events, funding opportunities through CGI U partners, and a global community of changemakers.
CGI U is a year-round program that helps develop the next generation of leaders and social entrepreneurs by giving undergraduate and graduate students access to training and mentorship opportunities, a wide range of international experts and changemakers, and in-person and virtual networking opportunities.
There's no cost to participate, but to be part of this program, students must commit to address a pressing local or global challenge. This commitment — called a "Commitment to Action" — takes the form of a new, specific, and measurable project that each student develops either as an individual or with their peers. These commitments fall within one of five focus areas: Education, Environment and Climate Change, Peace and Human Rights, Poverty Alleviation, and Public Health."
Note: UCF is a member of the CGI University Network, which means that students who apply and are accepted to CGI U are eligible to receive funding for transportation and lodging at the conference. Students requesting funding are required to submit a Commitment Payment (amount may vary depending on host location) before receiving funds from UCF.
Past UCF Student Projects
The Green Knights – climate change
Food waste recovery – poverty alleviation
Coastal resilience – food waste elimination
Homeless sock drive – health of underserved
Beyond the Plate – food insecurity and education
Melanoma prevention – general health
Centralized Knights – education
Funded Project Example – Hearts for the Homeless 
What? – A healthcare initiative that contributes to the well-being of those who are homeless in Orlando by providing free blood pressure screenings, education, and outreach to the homeless community.
Why? – High blood pressure and related health concerns are some of the leading causes of death among the homeless community.
How? – Partnerships with local food shares and free health clinics in the Orlando Area which has now expanded internationally where college and university chapters have been established.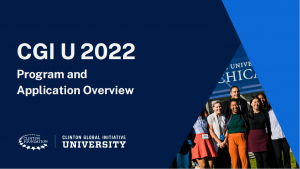 APPLY HERE
(Please note:  You will be transferred to the CGI U site to complete the application)
Fall 2021 Information Session: November 17, 2021, at 3:30 in LEAD Scholars Academy, Ferrell Commons, Building 7E, Room 168B
Looking to create meaningful change or to find out more information about CGI U?
Contact Dr. Stacey Malaret (stacey.malaret@ucf.edu) or Dr. Mark Allen Poisel (mark.poisel@ucf.edu)